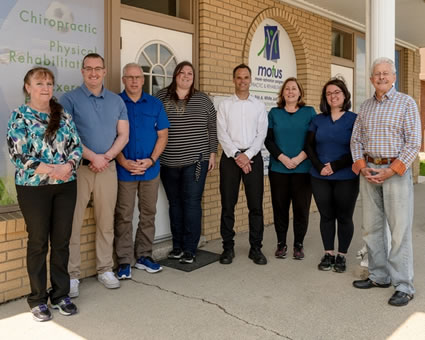 About motus HEALTH
Welcome to motus HEALTH! We are proud to offer the residents of Sarnia-Lambton and southern Ontario a fresh, modern, and diverse health care option! Our team of experts includes chiropractors, nutritionists, and wellness specialists dedicated to helping patients achieve optimal health and well-being.
Our practice is a unique health care centre that provides one-on-one therapy and group rehabilitation classes, such as GLA:D Canada, which is an 8-week exercise and education program for those with knee and hip osteoarthritis.
MEET THE TEAM

Patients We Serve
We cater to a wide range of patients experiencing various ailments, including:
Arthritis
Back pain (including lumbar)
Bursitis
Cervical & lumbar stenosis
Chronic pain
Concussions
Headaches
Ligament sprains
Motor vehicle accidents
Muscle strains
Numbness/tingling
Sciatica
Sports injuries
Tendonitis
Whiplash
WSIB injuries
Taking a Holistic Approach to Health
We also serve a growing demographic of patients interested in incorporating wellness care into their lives. Our holistic approach combines chiropractic care with nutrition/diet management, exercise prescription and therapy, cognitive behavioral therapy, and education on lifestyle and sleep hygiene. This health care model has proven highly successful in pain management, prevention, and optimizing one's potential.
Our Story
Our practice was born from the merger of two prominent chiropractic offices in Sarnia-Lambton: Dr. Gary G. Hare and Dr. David J. Matheson's practice, and Dr. Erin A. White's practice. In 1999, Hare Chiropractic and Natural Health Centre merged with Dr. Erin A. White. The practice was renamed Motus Chiropractic and Rehabilitation Centre in 2014, and welcomed Dr. Derek J. Martyniuk in 2015.
In 2023, we changed our name to motus HEALTH to better represent the diverse services offered. That same year, we merged with Dr. Matheson and Matheson Chiropractic and Wellness Centre. Our team has since expanded to include Blair Jameson, RMT, Sandra Zhakata, PediSoles, Monica Moniz, Nutritionist, and Brenda Hanlon, Eva Scoulicaritis, and Vikky Zangolli of GLOW.
Book an Appointment
Take that first step toward maximizing your well-being. Contact us today to schedule an appointment!

About motus HEALTH | (519) 332-4222